How to Fix Redmi Note 5 Backlight Way | Display lighting solutions
The solution in this post for Redmi Note 5 Backlight Way or Display light problem jumper solution. LED backlight generated due to the problem of damage or accidental dropping by the user.
The problem of damage without backlight is often symptomatic, such as with LCD that does not have a display, the LCD screen turns white. Or in general, no light is produced by the LCD screen, but ringing sounds and notifications can be heard.
Redmi Note 5 LCD or Backlight
First of all, LCD is your mobile digital display interface, it is an interactive part where you can see what is happening while operating or touching icons, watching videos, playing music or games, etc. If the LCD (liquid crystal display) or damaged, you will not be able to enjoy it as before. This is where LCD backlighting comes into play. A backlight is a series of LEDs (light-emitting diodes) neatly arranged and arranged in layers of the screen to illuminate the LCD screen.
Redmi Note 5 LCD backlight troubleshooting
To fix the Redmi Note 5 backlight problem on a dark screen, try replacing or installing a new display module first, just to check whether the LCD backlight LED is still functioning or damaged. You can also check the LEDs with a multimeter if you can adjust without damaging the LCD flexible connector. If the newly installed LCD screen still shows the same problem and the LED light does not turn on, refer to the solutions below and look for the components marked on the circuit board.
Redmi Note 5 Backlight Problems 
White screen

No screen

Little light on the screen
No backlight
Lines on the screen
If your Xiaomi Redmi Note 5 phone shows any of the symptoms described above. In addition, various remedial measures can be taken to remedy the damage.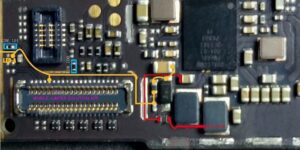 1. Make changes on the LCD screen
The first thing to do if you experience this damage is to try and replace a new LCD part in good condition. This can be applied if your phone screen is broken or cracked due to a strong drop. Trying to replace a new LCD screen can hopefully fix this malicious problem.
2. Check the LCD ways and connection
No damage to the phone backlight caused by liquid entering the phone. As well as damaging the LCD channel and the connection to the motherboard. So in order to fix it, it is recommended that you remove all parts from the mobile phone so that you can check it. Usually water will corrode and rust on rails and outlets and impact broken lines. So for repair steps, immediately clean it from corrosion and rust, if there is broken line, repair it immediately with pad jumper method.
3. Check or replace internal components
If the LCD screen and channel are in good condition, but suddenly there is damage to the backlight on your cell phone. So we can be sure that there could be problems with internal components. The diagram images provided by the Mobilintec team can serve as a guide when repairing a damaged backlight
Take measurements on each part, if there is a defective part, turn it on immediately with parts of the same type and value. Check the diode and coil components marked in the figure in the diagram. These components are often damaged and result in the appearance of the backlit display.
Very-Very High Quality Mobile Repair Soldering Mat Sheet [

Save 15%

]
 Anti-Static Non-slip Magnetic Silicone Repairing Mat is made of high quality non Toxic silicone, can resist high temperature of 500 °C /932℉ Heat Resistant and protect from Burn and ruin. Multi Work Station, the Soldering or heat gun can work in the Mat directly.

 
Heat Resistant!
The Rubber Antistatic Soldering Mat is heat resistant up to 500 degrees Celcius!That is why this soldering mat is the best protection for your table or desk.