Huawei Y7 (2019) Charging Problem Solution – USB Ways
In this article, I will walk you through how to troubleshoot Huawei Y7 Prime smartphone that is not charging or responding when connected to a charger. So, if you are currently experiencing this problem, read on to learn the steps to rule out the possibilities of finding out what is really wrong with your phone.
Many users who bought the high end Huawei Y7 Prime are facing the problem of Huawei Y7 Prime (2019) not charging. Most smartphones are working fine, but some users are complaining about Huawei Y7 Prime not charging incorrectly. Some Honor 8X owners thought the problem was with the charger and bought new chargers, but then realized that the problem was not with the charger. In this tutorial, we will introduce you to some quick solutions to fix Honor 8X charging issues.
Huawei Y7 2019 USB charging solution,
Huawei Y7 2019 usb not recognized not detected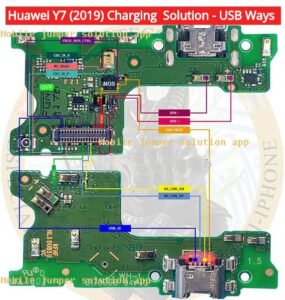 In Inmage there is differwnt colours of line drawed on Huawei Y7 (2019) Prime board this line are missing or breakdown on board, Hence this is the resonse of error or fault created in the smartphone . If you want to solve this problem make the jumper same as same in image on your mobile .This way you can solved your problem.
Connect the USB cable to the PC and to the phone jack, read the notifications on the screen whether the phone recognizes or not. Make sure you can save data to memory card or not. Replace the USB data cable and try again.
Replace the USB charger and try again, can it charge or not.
If you are having charging problem in Huawei Y7 2019 and you have tested all of the above steps to fix it. Take the phone apart and examine the phone for water and carbon damage. Clean it with electronic cleaner and apply heat with heat gun to dry it.
Keep in mind that the heat should not be excessive as it can damage your skin and the motherboard. So keep it in the normal flow and examine the parts carefully.
Huawei Y7 Prime Charging Ways USB Jumper Solution
Another reasons why the Huawei Y7 (2019) Prime won't charge could include:
The Mobile Phone is Defective
The phone has a damaged battery
The connector is bent, broken or pushed
There is a temporary phone problem
Charger or cable is defective
If you have a problem with charging or have difficulty connecting your Huawei Y7 Prime to your computer using a USB cable, it is possible that the charging connector of your Huawei Y7 Prime is defective. Replacing it with a new one is the only solution here. But if the prints from the USB connector are broken, you need to make the jumpers as shown in the diagram.