Redmi 6 Pro Ear Speaker Ways Earpiece Audio Problem Solution
In this article, you will find the solution to the audio issues of Redmi 6 Pro Ear Speaker Ways with earphone or receiver speaker. This solution makes troubleshooting quick and easy.
Here and there, it is simpler to discover an answer when you know where the issue lies. Without a thought of where the issue is, we will most likely be unable to investigate precisely and viably.
If the earphone Redmi 6 Pro does not work or no sound can be heard, you can first manually check the receiver speaker with a multimeter. Replace the Redmi 6 Pro speaker if it is damaged. Bad, distorted, or distorted sound also indicates a bad speaker. If the speaker works properly, clean the contact surfaces of the speaker terminal and make sure that it is properly connected to the speaker terminal. Check the filter components, these coils and ESD diodes.
What is an earpiece or speaker in a cell phone?
The earpiece or speaker of a cell phone is a digital problem or item that makes it easier to hear sound through the name of the smartphone. It is also called the loudspeaker or ear speaker. The earphone is controlled by Audio IC or Power IC (UEM).
Redmi 6 Pro Ear Speaker Ways Earphone Audio Problem Solution below in diagram image.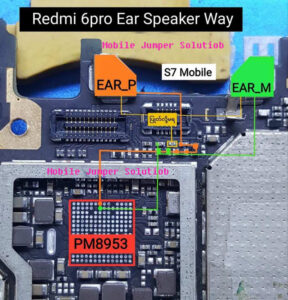 Check the point of the Redmi 6 Pro ear speaker after opening the mobile. If the bell tip does not work and the value is incorrect, replace it with a new speaker. the problem will be solved. if the problem is not solved, check the buzzer on board. if their value is not correct, check the parts and components with their path from the diagram above. If a pad is missing, install a jumper. If any part and components fail, replace them with a new one.
In Image,
In Inmage there is differwnt colours of line drawed on Redmi 6 Pro board this line are missing or breakdown on board, Hence this is the resonse of error or fault created in the smartphone . If you want to solve this problem make the jumper same as same in image on your mobile .This way you can solved your problem.
Tips To Fix Redmi 6 Pro Ear Speaker Or Audio Problem Recovery Solution
Check if the components of the Redmi 6 Pro earphones are damaged or misaligned. Use a multimeter
Check it (how to use multimeter) and replace if damaged.
If there is no problem with the speakers, check and clean the contact pads of the speaker terminals. Corrosion can weaken and loosen the connection.
Follow the Speaker + and Speaker- connections to each specific component to be connected.
Check and replace the filter capacitor and resistor assembly.
First check that the earplugs work or have tried to install aftermarket parts.
If the speakers are working, you can continue to check the components shown in the solution above.
There is a filter coil connected to the circuit, you can check the component first