LYF Jio F211s Mic Ways Problem Repair Solution – Mic Jumper
In this article, I am going to share the LYF Jio F211s Mic Ways not working microphone troubleshooting suggested by our readers who have encountered LYF Jio F211s microphone problem. If you are one of the homeowners with similar issues, read on as this article may help you in one way or another.
The microphone problem in the LYF Jio F211s is usually caused by the malfunction of a small part called the mouthpiece which is usually located under the phone when held in the paging position. The problem is preventing people from hearing you when you place a call. The problem posed by the mouthpiece is multiple. Among other things, the following could be responsible for a problem with the mouthpiece of a cell phone.
Changing the microphone of the LYF Jio F211s can be a bit risky. It is soldered to the motherboard, so when you take it out remember that it is in place and put on the new microphone in the same way as the old one. If you have any broken prints from the microphone jacks, I have marked them all in the diagram below. Please note that we will modify these solutions or add new ones at any time in the future if they are on this page. Do not hesitate to come back to this page to stay informed.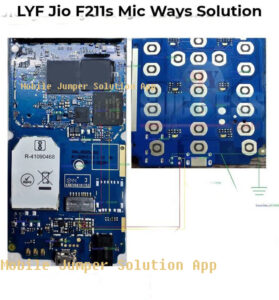 In Image ,
In Inmage there is differwnt colours of line drawed on lyf f211s jio phone board this line are missing or breakdown on board, Hence this is the resonse of error or fault created in the smartphone . If you want to solve this problem make the jumper same as same in image on your mobile .This way you can solved your problem.
How to fix LYF Jio F211s mic not working problem?
The microphone of LYF Jio F211s does not work and corrects in practical ways. Like the diagram above, there are two colored lines for the missing microphone pins which can be directly repaired. Red color as indicated by micro + pinpoint jumper and yellow color line can help for negative pin jumper. Do the same if the problem with the microphone is not working.
Jio Phone Mic Section components, Parts and rails are in the diagram above, so check these components and clean the area near these parts as well. Hot air dry it and check all the tracks with a tape measure if they are missing, apply jumpers and you can change these resold parts or replace them one by one until you fix Jio phone F211s mic Solution Jumper Problem mic ways
Continue to visit this page for more data and new tips and deceives on this investigating, we will refresh when new updates show up. The following are additionally some connected articles you can become familiar with PDAs.
Kindly note that albeit each graph and arrangement posted on our site has been tried by at least one of our group prior to posting, accordingly we are not answerable for any misfortune or harm, including individual injury. Utilize this maintenance arrangement at your own danger.