This way to connect Redmi Mi A1 Edl Point | Redmi A1 test point. Edl Point is known as emergency download mode, it is used to unlock phone bootloader. If your phone is locked You unlock your phone's bootloader, you cannot unlock it, in this process you will have to put your phone in Edl mode.
If your phone has a Qualcomm processor, it will certainly support EDL mode or emergency download mode. However, not all Qualcomm-based devices support it. However, nowadays the Meditech processor phone is also used to unlock the bootloader.
The Redmi A1 is a very good smartphone from Xiaomi brand, for its camera quality and reserve battery, it works a lot, the MI A1 comes with Qualcomm processor, so it can be easily taken in edl mode.
There can be many reasons to switch to Redmi A1 Edl Point / Redmi A1 test point if you want to update the default ROM on your phone or unlock your phone, in which case you will need edl mode. If you want to install or update your own Redmi A1 phone, you have many options to update the device's default ROM. Redmi A1 Edl Point is not working, you can try bidirectional recovery mode or use quick boot mode.
What is the Redmi Mi A1 EDL test point mode?
Xiaomi Redmi Mi a1 EDL Test Point stands for Emergency Download Mode. This mode is like an emergency port to transfer Android OS (Standard ROM) from computer to EMMC via processor when your device is in boot loop, hard lock or dead boot. The EDL mode feature is available on Qualcomm Snapdragon devices.
Read – 7 Best sky high car audio bass knob to control sound volume
Xiaomi Mi A1 Test Point Ways Image
Here is the Mi A1 test point for flashing, remove frp lock and bootloader unlock.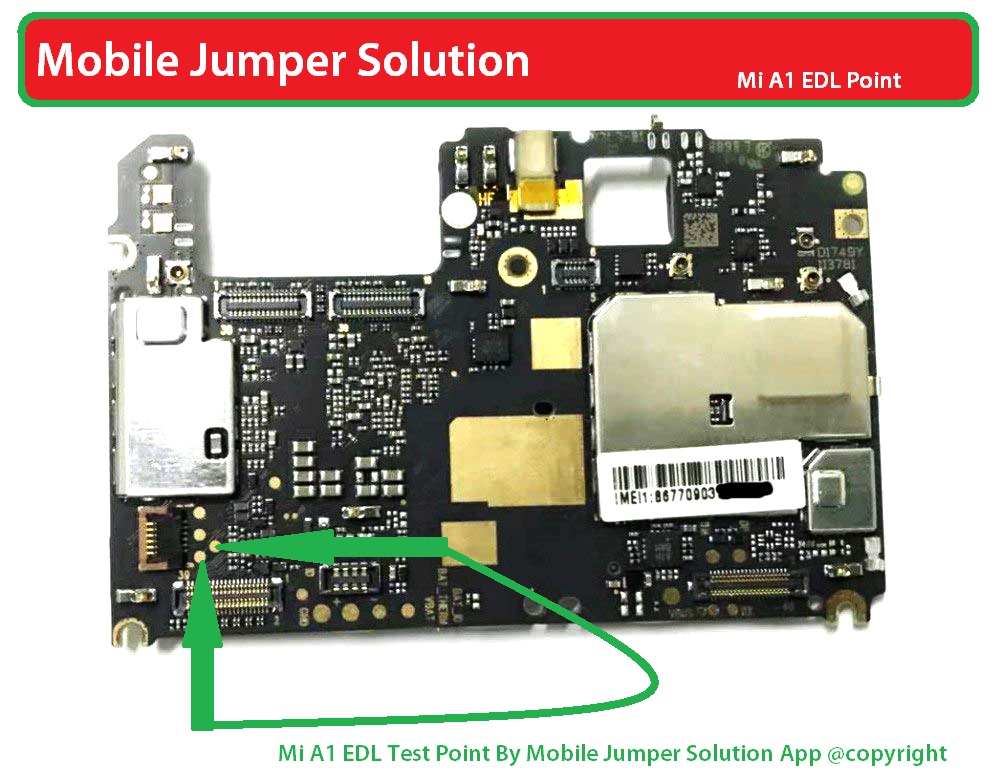 A surface mount test point is basically a small loop of wire designed as a connection point for test probes on a circuit board that contains surface mount components. It's relatively small, about the same size as a standard chip capacitor pack.
The location of the test points on each phone type will vary depending on the PCB type. On Qualcomm phones, test points are usually provided to force the device into emergency download mode.
Redmi A1 Edl Point usage tools
Flash MI Tools
miracle box
UMT Dongle
Paper clip, copper wire, tweezers
Special screwdriver to open HP
My PC Suite and My Flashtools (skip existing ones)
Rom Fastboot Xiaomi Mi A1
Xiaomi Mi A1 USB Cable
Operator SIM car
There are 4 different methods to start your phone in EDL mode. Choose the one that's right for you.
Method 1: Fastboot mode
Turn off your device and boot into Fastboot mode. This can be done by pressing the Volume Down (-) and Power buttons simultaneously until something is placed on the screen. Now you need to connect your device to the PC. Open the command prompt windows from minimal fastboot folder and provide the following command: fastboot oem edl
Method 2: using ADB
It is something similar to the previous method. Here it is not necessary to turn off the device and boot into fastboot mode. Just connect Mi Max to your Windows computer using a standard USB cable and launch the Command Prompt window from the folder where the Minimal Fastboot files are located. Just hold down the Shift key and right-click anywhere in the folder. Among the various options, choose "Open command window from here" and type the command: adb reboot edl
Method 3: using hardware keys
This is another method to start Xiaomi Mi Max in EDL mode. Turn off the phone and use a USB cable. Now connect one end of the cable to the PC port and leave the other end unplugged from the device. Now you need to hold down the Volume Up + Volume Down keys and connect the other end of the USB cable to the device. This is the device that will automatically start up in EDL mode.
Method 4: using the EDL test point
Remove the battery connector and connect these 2 test points shown in image. When you connect the device, it will show the Qualcomm port of your phone.
Read more :- Easy to Replacement Amplifier Upgrades – Car speaker Louder
Warning/Note:
This tutorial is for educational purposes only. Using this method will void your phone's warranty, so do so at your own risk and expense. This method is a little risky, please use it correctly, we will not be responsible for the damage due.
If you have any issues related to this post, please, below the comments box, we will try to resolve your issue quickly.
This process is tested and 100% accurate, but we do not assume any responsibility or damage caused by this process. Therefore, please do so at your own risk and expense.
By doing this, you may void your phone's warranty. If you have any questions on this topic, feel free to ask us in the comment box. We are here to provide the best answers to all your questions.
---
FAQ's For mi a1 Edl test point
Where can we use Redmi A1 test point?
My phone blinks (install firmware)
delete my account
How to connect Xiaomi A1 in Edl mode
First, open the back cover of the Redmi A1 (be careful when removing the back cover from the device)
Remove battery cable (battery is not required for EDL mode)
Now use tweezers to cut 2 red dots as shown in the image above.
Now connect the USB cable to your device.
Your phone has successfully entered EDL mode, now you can see the Qualcomm HS USB QDLodar 9008 port on your computer.
How The Flash mi A1
Short test point to connect phone via USB cable to PC.
Now that your phone connects to the PC, open the Device Manager port of the Qualcomm HS USB QLoader 9008 port will be displayed.
Open My Flash Tools
Put the Flash file on your PC
Assign the folder path.
Click refresh and tap the Flash button.
---
How To Redmi Mi A1 Edl Mode By Video
Read More – 11 Tips to Make Car Speakers Louder Without AMP in 2022 By Carsmusicsystem.com