Samsung Galaxy A10 A105F Power Key Ways Volume Button Jumper
If you're a mobile technician who is looking for a solution to the on / off button on the Samsung Galaxy A10 A105F and the volume up button not work, we'll show you how the problem with the on / off key Samsung A105F and the means of the volume button can resolve.
Samsung Galaxy A10 A105F Power Key Repair
Are you having problems with the power key of your Samsung 105F? Is it no longer possible to turn your Samsung Galaxy A10 A105F on and off? This problem can be irritating as it prevents you from doing certain things on your phone such as taking screenshots, turning off your device, or putting it to sleep.
Samsung A105F on / off key not working?
While it could be a battery issue it could be a broken Samsung A105F power button. The buttons of your smartphone can wear out daily. If your Samsung Galaxy A10 A105F is accidentally dropped, the internal components of the power button may disconnect or break, causing the connection to fail.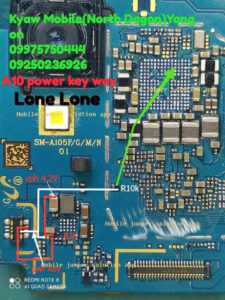 Samsung Galaxy A10 A105F does not turn on.

The phone heats up even when turned off and won't turn on either.

Randomly switches off.

The phone turns off when opening a specific application.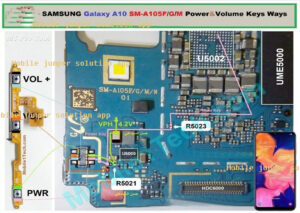 In Inmage there is differwnt colours of line drawed on Samsung Galaxy A10 A105F Power button board this line are missing or breakdown on board, Hence this is the resonse of error or fault created in the smartphone . If you want to solve this problem make the jumper same as same in image on your mobile .This way you can solved your problem.
Samsung Galaxy A10 A105F Power button Ways And Volume Button Jumper solution.
Here are the connection line paths for Samsung Galaxy A10 A105F | that may useful in troubleshooting a not working Volume control both UP (plus) and DOWN (Minus) button switches. This shows the connection line paths (jumper ways), especially when trying to fix the button switch if severely damaged or the PCB solder pads have been already lifted. You may use a multimeter to trace each of the volume button keys terminals connection across to a component where it is being connected. This solution may also work with Samsung Galaxy A10 A105F phones.
To resolve this issue, first visually inspect the button switch assembly for damage. Just replace it and gently resolder it without lifting the solder pads from the PCB.
If said set of switches looks okay, but still not responding or working. Refer to the solution above and locate the highlighted part on the PCB.
Samsung A105F Power Key Ways, Jumper, Problem, Solution, Volume Up-Down Button Ways
If you have any other questions, please leave a message.
Keep in mind: – Every solution posted on our website has been thoroughly tested by our team of specialists. However, we do not accept any responsibility for any damage this may cause to your mobile phone. Please use these repair solutions at your own risk, thank you.