Samsung Galaxy A20 A205F Volume Key Ways Power Button Jumper

Are you a mobile technician and looking for the solution to fix Samsung Galaxy A20 A205F volume key and power button issue, we will show you how to fix Samsung A205FN power key issue and volume buttons.
Samsung Galaxy A20 A205F Volume Key Repair
You have problems with the volume key on your Samsung Galaxy A20 A205F? It is no longer possible to turn your Samsung Galaxy A10 A105F on and off? This problem can be irritating because it prevents you from doing certain things on your phone, like taking screenshots, turning off your device, or putting it to sleep.
Samsung Galaxy A20 A205F power key not working?
Although it could be a battery issue, it could be a broken power button on the Samsung Galaxy A20 A205F. The buttons on your smartphone may be subject to wear and tear during daily use. If you accidentally drop your Samsung Galaxy A20 A205F, internal parts of the power button may become loose or broken, causing the connection to fail.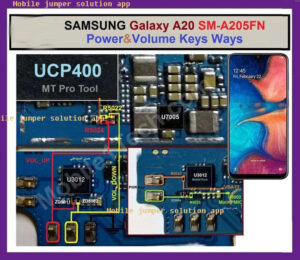 In Inmage there is differwnt colours of line drawed on lyf f211s jio phone board this line are missing or breakdown on board, Hence this is the resonse of error or fault created in the smartphone . If you want to solve this problem make the jumper same as same in image on your mobile .This way you can solved your problem.
Samsung Galaxy A20 A205F volume key does not work.

The phone heats up even when the power is off and will not turn on either.

Stops randomly.

The phone is OFF when a specific application is open.
To resolve this issue, first visually inspect the button switch assembly for damage. Just replace it and gently resolder it without lifting the solder pads from the PCB.
If said set of switches looks okay, but still not responding or working. Refer to the solution above and locate the highlighted part on the PCB.